After my Google rankings dropped last week I asked my self "is the Google dance still around?"
My niche site went from ranking fairly well to off the map in one night which left me scrambling trying to figure out what just happened. Was it something I did? It's you, not me right? Please don't leave me Google I can change I promise! OK, that is a little extreme but Google is as fickle as a 14 year old girl sometimes.
I am not writing this article as a rant at Google (we'll maybe a little) I am writing it so that if something like this happens to you hopefully you can get some answers about why your search engine rankings dropped.
The fact is I have been scrambling to find out why my Google rankings dropped. Did I do something or is Google's algorithm is just dancing around like the old days. Some say the Google dance is still around and some say it is gone, I believe that the actual "Google dance" is probably a thing of the past but the term can still be applied to how their algorithm works today…keep reading, you'll understand what I mean.
Stir Crazy!
Google Makes Me Mental! As Mel Brooks said in high anxiety "patience is mental, and we are all mental patience." And after my little roller coaster ride with Google's algorithm with my horse training website I feel like I need some medication. I will explain in this post exactly what I am talking about and why we need to have patience when it comes to our search engine rankings with Google.
We don't need Google glass we need the "Google strait jacket" to stop us from hacking out websites up after Google decides to tweak something.
I just Shipped My Pants!
Most of you probably know what I mean by that, but if you don't have a look at this very clever video by KMart.
So why did I "ship my pants?" because everything was going along fine with my horsetraininghq website, at least heading in the right direction anyway. And then all of the sudden (literally over night) all of my rankings just plummeted out of the search results…I don't mean down 20 or 30 spots, I mean gone. I was not De-indexed by Google, I could still do a site:horsetraininghq.com search and find my site but I was gone as far as any kind of search engine traffic was concerned.
So I about shipped my pants right then! I couldn't figure out what I had done or why Google would penalize my site. The only thing "grey hat" I have done is build 3 free websites in my Horse training niche, put a few articles on them and point them to my site, hardly worth getting penalized for and probably not effective anyway.
Don't Call It A Comeback…Yet
After reading post after post for about 6 hours (possibly more) I came to the conclusion that I had 100 more ideas about why I had no idea what happened. There are just too many factors that go into Google's algorithm to figure it out in one day…or 8. The only way to try and make some sense of the situation is take a long hard look at your website and ask yourself "did I deserve this?"  And all you can do about it is move ahead making your website better and wait to see if Google decides to take you to the dance…I'm waiting with baited breath.
Unfortunately I wasn't tracking my rankings before Google plummet (lesson learned) but let me show you where some of my ranking are the following days after my websites fall out of the rankings.
The day before the Google rankings drop I was ranking in at least the top 50 for all of the keywords listed below. The day of the Google ranking drop I was gone…I mean gone from the rankings! All of the keywords listed below were 500+ ( I almost shipped my drawers!) Although I did make it back into the SERPS the following day. My ranking were not great but it did give me hope that Google was just trying to find my spot in the rankings (more on that later.)
I used Longtail Pro to do my research on this, it's a great tool for keyword research and tracking your ranking over time. If it's in your budget ($97) I suggest you go out and get a copy. Have a look at this article by Matthew Allen, he explains in great detail about how Longtail pro works. There is also a free tool here to check your rankings in Google, Yahoo and Bing.
One day after my rankings were GONE here is where I was with some of my "better" keywords…


Now remember, I am not saying that these keywords were ranking in the top 3 but the keyword "weird facts about horses" was number 5 in Google for about 4 weeks. I will explain why "I think" this happened later in the post.
My rankings two days after Google sank my battle ship…

After two days my ranking stayed about the same (worse in some cases) but I was in the SERP's so all I can do is hope now right?
And three days after the Google punch to the face…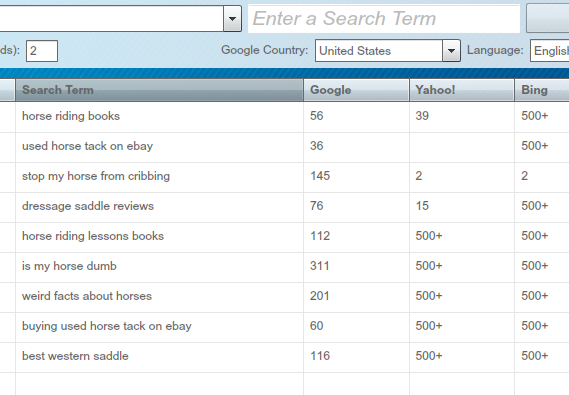 It seems like things are moving in the right direction, I mean my lowest ranking keyword is all the way up to the 33 page in Google. (sarcasm) But nonetheless I'm headed up the charts to number one (more sarcasm) I'm not going to post screen shots of my ranking for each day but I will write an update after about a week and then after about a month just to see where it goes.
So, Why did my rankings drop and does the Google dance still exist?
So back to the question "is the Google dance still around?" It depends on your definition of the Google dance. Let me explain the factors that I think could have a factor in your rankings dropping and why sometimes it is not necessarily your fault. Search Engine Watch wrote an article about the Google dance syndrome and why about once a month webmasters start flipping out (like me) and wondering why some of their rankings dropped. If you are using white hat techniques then it is probably just Google trying to figure out where you belong in the new and "improved" search results. This is what I am hoping is going on with my website rankings.
Figuring out why Rankings drop
Here is a list of steps to take if your ranking drop and you have no idea why. In order for you to have any sort of concrete action you can take moving forward be prepared to be completely honest with yourself about the quality of your website, link building and and SEO you have done so far. The first question I asked myself was "did I deserve to be ranked that high?" And I'm not so sure about that.
On a side note, It really pisses me off that seroundtable can rank #2 for a 3 paragraph post like this that took 30 seconds to write!
1. The first thing you should do is check your webmaster tool and see if you received any warnings from Google or if you have any malware on your site. I had neither of these.
2. What changes have you made recently? Have you changed your theme, title tags or built any questionable links? I recently changed my theme from an Elegant theme to a Genesis theme, Genesis themes are coded better than Elegant Themes so I am hoping this will eventually help my rankings. If you did make changes it might have confused Google a little bit so just be patient (not a mental patient)
3. The Google dance or sandbox affect. Some people believe Google will put a website in the "sandbox" just to make sure it is going to stick around for a while before it starts to rank that site. My website has been around too long for this to be a factor for me (I think) but it very well could be that Google put me higher in the search results to "test" how much people liked the results. Taking an honest look at my website I think this could be a small factor. I have been active on social media, I have 40 posts on that website (all relevent) and have had one article 10 weird facts about horses shared all over Facebook and linked to quite a bit. At the very least that article deserves to be in the top 10 for that term, but at the time of this post I am sitting at 200…GRRR!
4. Broken links and server issues. Google doesn't like to wait outside and If you have broken links or your web host is having a busy day when Google comes by (more than once) then you could slip down the rankings until your website gets crawled again. A good plugin to check for broken links is broken link checker (you have to change the server load settings on the plugin menu)
5. Duplicate content. This is a very tough on to figure out (unless you are the one scraping content) With the way authorship is set up the person who originally posted the content (got indexed first by Google) should have original content. The thing that concerns me about this is that I posted an article to ezinearticles with the same content as mine (the 10 weird facts article that plummeted) after it had already been indexed for a month. I am under the impression that you can submit your own articles to other ezine websites as long as they have been indexed first. If I am wrong will someone please let me know…Thanks!
The Moral Of The Story?
Don't be your own worst enemy, don't go hacking your website up and removing links you think might be hurting you. Like the saying goes patience is a virtue. If I have learned anything about building a website it is that you have to hurry up and wait…and wait…and wait.
Make small changes so you can track the affect it had. If you change 3 things all at the same time you will still be guessing if one of those things had any impact at all. Is the Google dance still around? yes…kind of so just wait out the storm and see what happens.
Thanks for reading this post. and stay tuned for the updates about my horse training niche site. You can also find me on other social networks at the top of the page or here.
Images on this post originally shared by
Crazy eyes from funchun.com
Tumbstone from Anvari.org